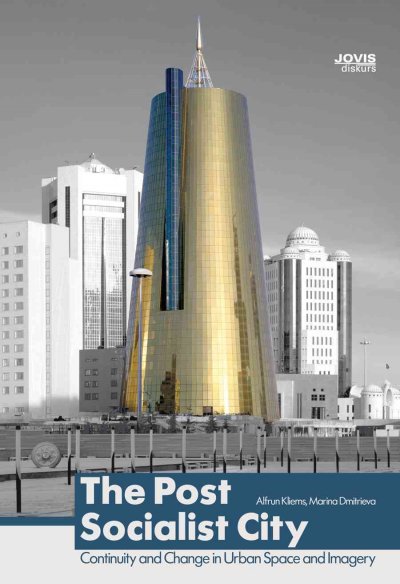 "Urban 'Truths': Artistic Interventions in Post-Socialist Space."
In The Post-Socialist City: Continuity and Change in Space and Imagery, Marina Dmitrieva and Alfrun Kliems, eds. Berlin: Jovis Verlag, 2011.
Krystian Czaplicki is a young Polish artist and designer who goes by the street name of Truth, or Truthtag. Since 2003 he has been developing lightweight sculptural objects out of polystyrene, which he then attaches to buildings, signposts, ruins and urban furniture such as seating, curbs and outdoor stairways. He has recently become involved in gallery exhibitions and public art fairs, working at a large scale. The objects which I focus on in this essay demonstrate an investment in the visual and design heritage of Constructivism, de Stjil, and the utopian architectural modernism of the 1920s and 30s, particularly New Objectivity. Truthtag seems to invite the interpretation of his work as spatial graffiti by virtue of his nom de plume, and while his works are certainly recognizable as signatures, his tags do something more. They make use of the viewer's architectural visual literacy, bringing established, professionalized ways of seeing the twentieth-century city – the bird's-eye view, the plan, elevation and most importantly, the architectural model – to the passer-by. The cities in which Truthtag works have a number of factors in common: the westernization or internationalization of what was, formerly, visibly socialist space; the provision of reductive, tourist-friendly Communist narratives, and the celebration of the pre-soviet aspects, particularly the architecture of the city. In addition to these commonalities, these cities also share a memory of the recent socialist past, despite the fact that this memory has been reconstituted and manufactured for tourist consumption on one hand, and diminished within idealized city narratives and images on the other. This essay explores the way in which Truthtag brings the architectural and political histories of his sites into public view and into public reach, for reconsideration and reconfiguration: a viewer may become a participant by simply moving the pieces into a new formation of their own choosing.